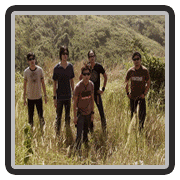 Sandalan mp3
I mp3
Umaasa mp3
Sige mp3
Kailanman mp3
Di tayo titigil mp3
Bright Side mp3
Collide mp3
Clown mp3
Naghihintay mp3


Biography



Formed out of 6 people's passion to create music and the desire to express themselves through songs, 6cyclemind has done and continues to do just that, taking their listeners and fans on a constant roller coaster ride of moods and feelings with each and every one of their songs, hit after hit after hit. Formed in 2001, 6cyclemind is composed of Ney Dimaculangan on vocals, Rye Sarmiento on rhythm guitars, Chuck Isidro on lead guitars, Bob Canamo on bass, newest member Tutti Caringal on drums and of course, the infamous 6th member, manager Darwin Hernandez… Just 6 regular guys inspired by music and who desired to make music of their own.

Now, 6cyclemind has become one of the biggest bands in our country today. Spawning hit after hit, they have justifiably been called "a hit song-making machine" many times. With three successful albums already under their belt, debut album Permission to Shine, sophomore release Panorama, and their newest release, simply
titled Home, their songs have been dominating the airwaves as well as topping video hit charts everywhere, too. It's impossible for anyone to not hear their songs and get hooked. More so impossible for anybody to not know them since their faces are all over the metro, too (for Tanduay's Rhum on the Rock billboards). With product endorsements, several TV commercials, numerous videos ad hits, 6cyclemind is really one of the more popular household names now in the local music scene today.

With their latest offering Home, 6cyclemind takes a break from all the songwriting and gives their fans and listeners a refreshing change. Although widely known for their original songs, the band took a surprising change in direction by releasing an all covers album in Home. From pop, rock to new wave and from foreign to OPM artists, the newest album is a collection of the band's favorites. Home has already spawned 2 quite successful hits already with first single 'Prinsesa' which is actually a local rock legend Teeth original and their current single 'Upside
Down' from Two Minds Crack that's been enjoying generous and consistent airplay both on radio and TV nowadays.

With songs that get you hooked even after just one time of listening to it, 6cyclemind is gifted with the ability to just really connect with their listeners through their songs. Creating music out of the most mundane experiences like going on a road trip, missing someone, sudden break-ups, or just even being there for a friend, they are able to reflect day to day life in their songs making it easy for listeners to relate. Barkada anthems such as Sandalan, Sige, Trip, and catchy love songs Umaasa, Biglaan, I, and Paba all exemplify the voice of today's generation, which is why they are often referred to as the "barkada band". In between their many gigs, TV guestings, shoots, interviews, out-of-town shows and even pre-production and writing sessions for songs for their next album, the boys of 6cyclemind take a break to answer some of Clickthecity's burning questions and sheds light on things like their new album, their band history, their secret band 'crushes', band rumors and how they keep sane despite their insanely busy lives, only here on City Sessions.