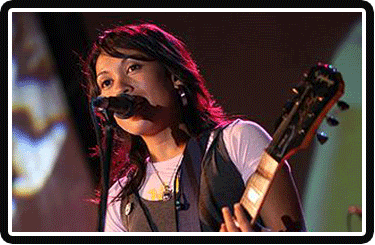 Spolarium mp3
Tara lets mp3
Taning mp3
Idlip mp3
Hiwaga mp3
Ewan mp3
Bathala mp3
Anino mp3
Alay mp3
Akap mp3
Sundo mp3



Biography
The band played a hypnotic set sans bassist Myrene Academia, but it was a rousing set nonetheless. Ever since the band's maiden release, the album called "Probably Not, But Most Definitely," I have closely followed the band's growth and maturity as their music evolved from Folksy Alt Rock music, to angsty alt rock (perhaps because of the departure of violinist Michelle Pritchard and the arrival of bassist Myrene Academia of the band Sandwich), and to a little bit more Pop sounding album than ever before.

Bannered by the album's carrier single, Taralets, the band has effectively transformed their music in gaining newer grounds as this Pop-laden album charts new territories. While some critics would say that the band has left their indie roots, I beg to disagree. Blush may sound too mainstream compared to the two previous releases; But Blush has just the right mix of fusing their signature music with their new sound. Case in point, the song Lula. It kind of reminds us to some of the songs from their sophomore album Take Two. But they never entirely left their roots. They may sound new but that time tested Imago sound is still there.

I personally like the song Sundo. It magnificently showcases Aia's vocal depth and her unmatched beauty in delivering a wonderful ballad. As always, Aia's poetic lyrical prowess never fails to impress this writer and her songwriting combinations with drummer Zach Lucero (Sundo), and guitarist Tim Cacho (Under Repair) are among a few of the standout tracks in the album. Zach, I just have to say has definitely nailed his best musical work for the song Sundo. This could very well be what the song Akap was to their second album, even if it may sound tamer. Tim Cacho on the other hand provides a very soothing and steady music to Under Repair.