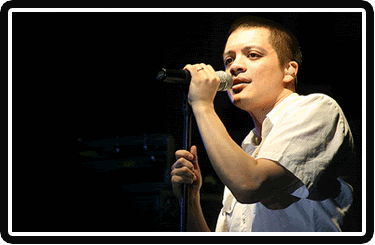 Biography
To examine Bamboo's story so far is to take a microscopic view of the local music scene. It all starts with a dream. Taking inspiration from all the demigods that sang to them from their crabby speakers, spewing wisdom and good vibes out of worn out cassettes long before an apple gave birth to a pod, they pick up an instrument, string up some riffs, weave some melodies, sing a few songs. Before they knew it, they had sold their soul to the music, and the mistress exacts a high price. The goal—first, an album; a single on radio; do some gigs; then dream of playing the foreign shores. The cycle should grow exponentially, in theory. Yet as the proverb goes, many are called but only a few (and fewer still) are chosen.
Bamboo's story is one that many admire and aspire to duplicate, yet would never fully admit. It started with a simple phone call. Bamboo Mañalac, who at that time had been living and studying in the U.S., made a call to an old friend back home who, he learned, had quit the band he had once fronted. Nathan Azarcon, in fact, had been out doing his own thing for almost a year already, and had been playing with bands like Kapatid and Makatha
"At some point in the conversation, I asked him, what do you think of me going back there," Bamboo recalls.
Mincing no words, Nathan bluntly tells his former band mate, "Things are tough here right now. It's not as easy as you think. The music scene isn't up to what you remember before."
But once their conversation turned to music, it was like old times. "The funny thing, even when we were miles apart, we were still pretty much listening to the same thing," says Bamboo. And the devil inside stirred once again.
Nathan then tapped Kapatid band mate, guitarist Ira Cruz, and drummer Vic Mercado. Both had played in Passage before, and by then had been gigging as the rhythm section for Makatha with Nathan. As soon as Bamboo got back to Manila, he went to see Makatha in the now-defunct Sanctum bar in Intramuros; the following day, only they bore witness to the makings of a new band, highlighted by a pivotal jam session in a small studio in the house of Ira's dad, the latter himself a pillar of Pinoy music as the sax player of the band Anak Bayan. "From that first jam, we knew it was something special… saan-saan na pumupunta 'yung mga kanta," Bamboo remembers