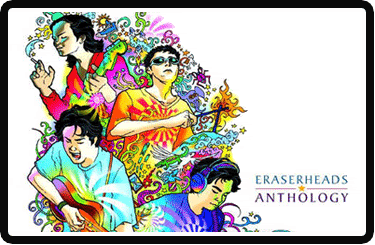 Tikman mp3
Sinturong Pangkaligtasan mp3
Overdrive mp3
Maskara mp3
Maling akala mp3
Magasin mp3
Alapaap mp3
Toyang mp3
Ligaya mp3
Para sa masa mp3
With a smile mp3




The Band

A dozen years ago, four brilliant but then underrated musicians cast rocks into a pond. Then lo and behold! Instead of causing ripples, it created a tsunami that swallowed everything in sight.

They were The Eraserheads. The pond was Original Pilipino Music. And the tsunami? Pop alternative-----proudly Pinoy, made flesh then and has dwelt among us since. The end. Not.

Years after Ely Buendia, Raymund Marasigan, Buddy Zabala and Marcus Adoro a.k.a. Eraserheads have parted ways, the music of the acknowledged flag bearer of Pinoy pop alternative music continues to course through the veins of the generation they defined. It's all because they made nine groundbreaking studio albums that collectively sold more than a million copies; churned out, oh, only more than two dozen hit singles that composed the collective soundtrack of a nation and; won every imaginable award the industry could give them.

And though some of their disciples seem to have moved on to R&B or acid jazz, trance or acoustic music, and maybe even other pop alternative bands, make no mistake about it: All still feel "Ligaya" and welcome "Toyang" "With A Smile" when they see her "Minsan" during "Sembreak;" standing under a "Maselang Bahaghari" in the "Alapaap," just above the "Tindahan Ni Aling Nena" beside the "Magasin" stand where she dances "Ang Huling El Bimbo" in "Overdrive." Who's "Toyang?" "Wag Mo Nang Itanong," "Pare Ko."