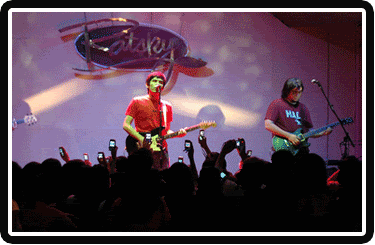 Blue skymp3
Shooting stars mp3
Broken sonnet mp3
Toll gate mp3
Biography

Hale now hits off melodiously well with a hopelessly romantic Filipino audience. Their impact is felt everywhere you hear their song "Broken Sonnet" and "The Day You Said Goodnight"-- the songs that have sent young hearts pumping into overdrive.

July 2004, when this four-piece rock alternative outfit collected themselves at the core of one goal to reach out the listening crowd and make them understand the value of the band's musical sincerity. And sincerity is where Hale excels.

Hale, the band that promises to highlight their musical versatility and excellent vocalism in alternative rock genre and yet emanates a very sad undertone that they describe as "melodrama." (melodious drama)

All from the southern part of the metro (Las Piñas, Alabang and Parañaque), Hale is composed of Champ Lui-Pio's (lead vocals and guitars) heart-on-sleeve vocals and the group's songwriting exude feelings and melody, much to the delight of the melancholic youth in search of a like-minded voice. Roll Martinez (guitars and vocals) with his lyrical powers, believes that there's so much to spell in words through songs where exudes a very ironic yet compelling poetic piece, "Broken Sonnet"—the band's first single with EMI Music. In synch with Sheldon Gellada's expertise on bass, he also contributed heartfelt and experience-based songs infectious to his personal musical influences that excel in his instrumental virtuosity to grandiose rock. And with then-sessionist Omnie Saroca on drums, an artist whose music used to steep in cool mainstream reggae now switched to melodic rock.

The band then meet at an epicenter—music. Two of the members, Rol and Sheldon, are Music majors at the University of Santo Tomas (UST). They eventually became friends with Champ, who also been exposed to music scene while he was young and being the son of a respected songwriter-producer. Lastly, Omnie, before has started jamming with other bands and that have helped him develop his talents in his chosen craft.

The band signed in November 2004 with EMI Philippines after being snubbed by other recording companies. But EMI took the chance of giving these young prowesses of sincere music begin their journey. At the first quarter of 2005, their tragic love song "Broken Sonnet" became the carrier single in EMI's Full Volume, a collection of Pinoy rock music-- where the pioneers meet protégé…Hale graced the album with local rock titans like Bamboo, Sugarfree, Sandwich, Urbandub etc.

The mid-tempo ballad "The Day You Said Goodnight", which served as their first single for their first and self-titled album, have massively dominated the local charts and wowed a crowd largely comprising college kids even before the release of their first album. Their self-titled album under EMI Music Philippines had already given an impressive record sales and radio airplay since its release in May 2005 and turned Platinum record in August and Double Platinum in November 2005. Second single followed with KAHIT PA and KUNG WALA KA came next.

Hale have conquered 2005 with songs that gladly scaled the heights of radio charts, music channel charts and stage performances across the nation as that first single THE DAY YOU SAID GOODNIGHT hold its lock at no.1 and endeared the band to both critics and listeners alike.